Process thermostats from -20 to 80°C and cooling output up to 10 kW
High-performance and versatile. A comprehensive performance spectrum enables the LAUDA Variocool to deal with sophisticated process temperature control in the moderate temperature range.
Equipment incorporating various pumps and individual expansion with interface modules, including the option of external temperature control, allow optimized adaptation to changing requirements in the process environment.
A malfunction contact is standard equipment. Furthermore, a Pt100 module for external temperature control and interfaces for analog and digital communication can also be added.
Overview
Benefits and added value
Adjustable bypass for pressure restriction (analogous to pressure display for operating control, adjustable via bypass)

Filling opening at the top, drain tap at the rear

Integral programmer with 150 segments, can be divided into 5 programs

Electronic level indicator and low-level protection alarm

SmartCool system for energy-saving digital cooling control including automatic compressor control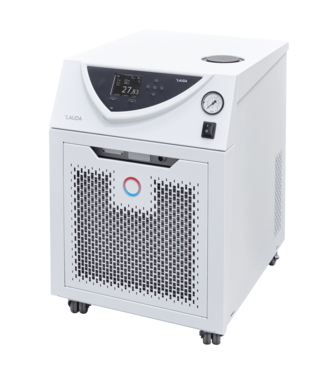 Working range
All models are available in air- or water-cooled versions (W) and are equipped with steerable fixed castors. Sound insulation or the option for outdoor installation is available for the powerful process thermostats in tower design from the VC 5000.

Min. working temperature
-20 °C

Max. working temperature
80 °C

Temperature stability
0.05 ± K
Select up to 4 technical parameters that you want to display in the table
Device dimensions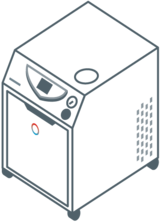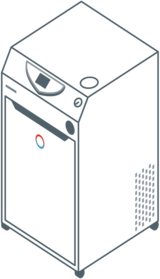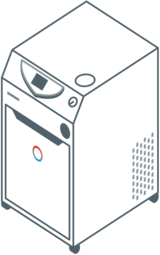 Downloads - general product data
Device
Device category
Document type
Language
Format
File size

Variocool

Process thermostats
Operating instructions

English

PDF
2,28 MB
Download document

Variocool (new design)

Process thermostats
Operating instructions

English

PDF
3,66 MB
Download document

Variocool NRTL

Process thermostats
Operating instructions

English

PDF
2,21 MB
Download document

Chapter Circulation and process thermostats
Overall brochure

Process thermostats
Brochure

English

PDF
4,76 MB
Download document
Accessories
Please use the LAUDA accessories finder for additional accessories.
Do you need additional information or do you have questions?

International Area Sales
+49 9343 503-555
E-Mail
This might also interest you: