Whether smartphone or tablet - simply integrate your device into your company network and access it via app (iOS, Windows, Android). Installation location and operation are decoupled, enabling access regardless of location. Two-factor authentication and other measures guarantee the highest possible security.

A clear screen is waiting for you in the app, with which you can get a quick overview: The current temperature profile, set safety and application limits, and other control parameters are displayed - even customizable according to your own wishes. With the alarm and notification functions, you always have an overview.

Finding the right temperature control unit in the network has never been easier. In the app, all temperature control units available in the network are displayed in a list. Simply select your device and connect automatically.

The app supports machine guidelines applicable to temperature control units.

Currently, LAUDA Integral process thermostats can be controlled with the Command App. Expansion for other LAUDA equipment lines is being worked on.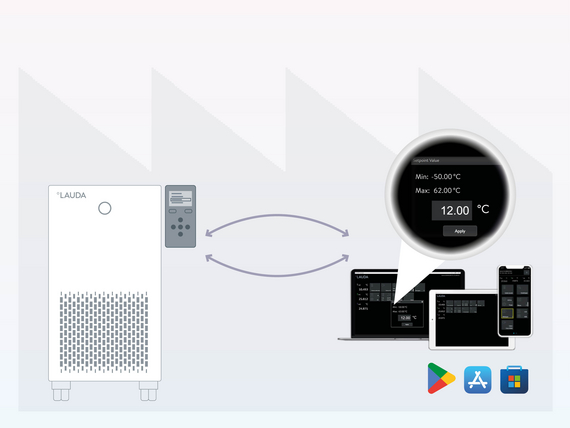 COMFORT
Operate your LAUDA temperature control solution directly from your mobile device or PC. The LAUDA Command app is quickly installed and easy to set up. So you always have the control of your devices with you.
SECURITY
Access to the devices is protected with the highest security standards such as two-factor authentication and HTTPS. Applicable machine guidelines for temperature control devices are supported.
PROGRESS
App compatibility will gradually be rolled out for additional devices. All LAUDA temperature control and laboratory solutions will then become fully networked and intelligent IoT devices.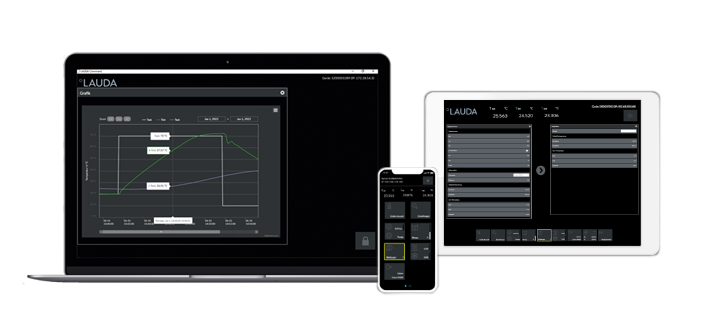 Device selection: Easily select the device to use.
Changing parameters: Depending on the application, you can individually adjust controlled variables, control parameters, pump parameters, level parameters, manipulated variables and temperature limits.
Basic settings: Manage language, temperature unit and much more with just a few clicks.
Temperature setpoint: Direct entry and management of the temperature setpoint (Tset).
Messages: All alarms, error messages and warnings that may have been triggered on the device are available to you.
Standby/operation: Switch the device on/off (standby) thanks to intuitive operation.
FREE
LAUDA Command Professional
All advantages of LAUDA Command
Programmer: The programmer allows you to carry out and save a temperature-time program. 5 different programs can be saved.
Graphical temperature curve: The temperature curves you previously set can be displayed graphically.
Available Soon
We like to keep you up to date
Do you have anymore questions?
Service
Service Constant temperature equipment & Plants
+49 9343 503-350
E-Mail