Extremely precise temperature control at extreme temperatures
At LAUDA, you will find various categories of heat transfer liquid:
Closed, cold oil blanket systems
Open/half-open systems
Water additives
Half-open systems are open baths with a lid. Open systems, by contrast, are open to the atmosphere and have no cover at all. In contrast to this, the thermally active heat medium has no direct contact with the ambient air if you are working with a closed cold oil blanket circuit. This is the case with the LAUDA Integral XT, for example.
Thanks to our many years' experience with temperature control technology, we are in a position to provide you with a custom-tailored solution. Whether for your circulation chillers, your water baths for labs or thermostats for laboratory and industry (for example, circulation, bath, low-temperature and heating thermostats) - we offer a wide range of high-quality heat transfer liquids that reliably ensure a long service life for your devices even with continuous operation.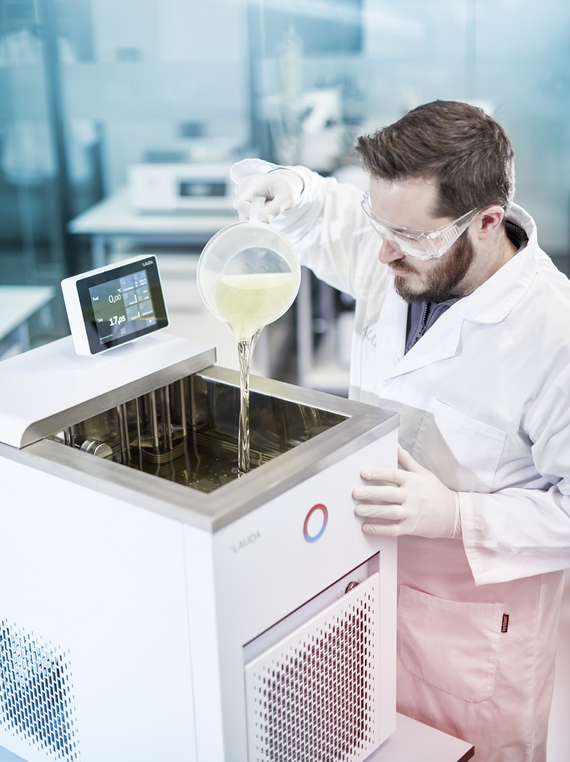 The right choice of heat transfer liquid is of critical importance for the safe and reliable operation of thermostats, circulation chillers and water baths.
LAUDA constant temperature equipment consists of highly precise machines that are technically ideally prepared to precisely approach the required temperature, to maintain the temperature at a constant level, or to control the temperature dynamically, even with changing operating points. This precision can only be achieved in conjunction with a heat transfer liquid that harmonizes perfectly with the equipment and is also approved for the required temperature range.

The selection of the right heat transfer liquid is also crucial for the efficiency of the heat transfer. In this respect, the working temperature range is usually the most important selection criterion. LAUDA heat transfer liquids can be used in a temperature range from -95°C to 350°C. Their heat transfer properties have been tested with LAUDA devices.

Apart from water, the product range includes water-glycol mixtures and polyethylene glycol, as well as mineral and silicone oils. LAUDA offers optimized heat transfer liquids for both heating and cooling applications.

Heat transfer liquids for temperatures above 0°C are designated with the name "Therm". Liquids that can also be used below 0°C bear the name "Kryo". The suffixed number indicates the minimum temperature for "Kryo" and the maximum temperature for "Therm".
Always follow the operating manual for the individual product lines to ensure smooth interaction between the heat transfer liquid and the device. Maintenance and change intervals must be complied with without fail to guarantee optimum operation with reproducible results. Safety data sheets and technical product data sheets for our temperature control media can be found in the download center on our website.
Achieve optimal temperature control results with LAUDA
Please note that not every heat transfer liquid is suitable for your devices. Before you decide to purchase, you should absolutely weigh factors such as heat conductivity, temperature ranges and viscosity. Relevant also is both the bath volume and the volume of the external circuit. We will be glad to help you decide which of these products you need to maintain the stability of your processes:
Algicides
Citric acid descalers
Silicon oil
Decalcified water with water stabilizer
Antifreeze concentrates
And much more
We kindly request that you read through the relevant safety and danger notices before using our liquids. In the LAUDA Download-Center, we provide the associated safety data sheets (for example, for silicon oil or cooling liquid), operating instructions as well as information about our devices and heat transfer liquids. Alternatively, you can contact our service employees. They are trained to advise you expertly and carefully.
---
Do you have any questions?
Service
Service Constant temperature equipment & Plants
+49 9343 503-350
E-Mail