High-performance low-temperature thermostats from -90 to 200°C, for use in process technology and material testing
High cooling output and compact size. The Proline Kryomats are extremely low-temperature, high-efficient thermostats that provide an excellent price-performance ratio.
The pressure pump is optimized for internal circulation and can be set to four levels – the standard-issue LAUDA Command remote control also makes it especially user-friendly.
Furthermore, an integrated bath edge and bath bridge heating prevent the formation of condensation caused by air humidity at low temperatures.
Overview
Benefits and added value
Spacious baths and large bath openings – ideal for bulky test specimens and effective throughput

Removable Command operating unit with high-resolution, graphic LC- and individually selectable display functions.

Programmer with 150 temperature/time segments, can be divided into 5 programs.

Pump connections on side and rear, integral bypass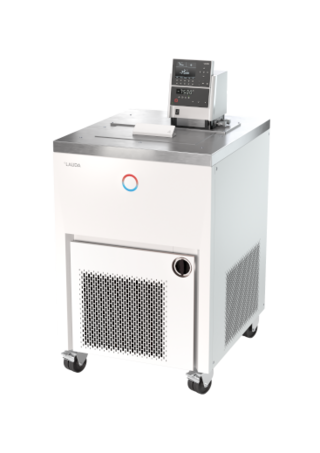 Working range
The air and water-cooled versions of the Proline Kryomats are available with large bath openings and volumes of between 30 and 40 liters.

Min. working temperature
-90 °C

Max. working temperature
150 °C

Temperature stability
0.05 ± K
Select up to 4 technical parameters that you want to display in the table
Downloads - general product data
Device
Device category
Document type
Language
Format
File size

Proline Kryomats

Bath thermostats
Operating instructions

English

PDF
3,09 MB
Download document

Proline Kryomats (new design)

Bath thermostats
Operating instructions

English

PDF
4,31 MB
Download document

Chapter Cooling thermostats
Overall brochure

Bath thermostats
Brochure

English

PDF
3,37 MB
Download document
Accessories
Please use the LAUDA accessories finder for additional accessories.
Do you need additional information or do you have questions?

International Area Sales
+49 9343 503-555
E-Mail
This might also interest you: