Pressurized process thermostats from 20 to 25 kW for temperature control from -40 to 140 °C
The LAUDA Integral P process thermostats function according to the flow principle, with a pressure overlay of up to 4 bar. This allows non-flammable water/glycol mixtures to be used in a temperature range of -40 to 140°C.
Thanks to the electronically controlled, magnetically coupled pump, optimized flow rates can be set for different applications.
Like all devices in the Integral line, the Integral P is also designed to use the LAUDA.LIVE platform. It enables remote maintenance and monitoring, as well as many other functions.
Overview
Benefits and added value
Fast cooling and heating cycles

Expanded temperature range for water/glycol applications

Demand-based flow rates in the application

Optimal performance of the Integral P even at extremely high pressure drops with low flow rates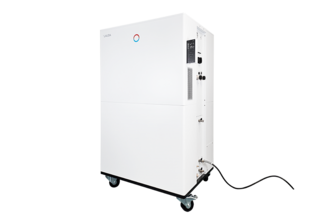 Working range
Integral P process thermostats are equipped with a compressed air supply to draw the temperature control medium into the temperature control unit via a negative pressure of -0.2 bar. Like all Integral devices of the new generation, the Integral P process thermostats also use a modular interface concept for maximum flexibility in user processes.

Min. working temperature
-40 °C

Max. working temperature
140 °C

Temperature stability
0.05 ± K
Select up to 4 technical parameters that you want to display in the table
Downloads - general product data
Device
Device category
Document type
Language
Format
File size

Integral P

Process thermostats
Operating instructions

English

PDF
7,28 MB
Download document

Flow controller MID 80

Operating instructions

English

PDF
2,16 MB
Download document

Chapter Circulation and process thermostats
Overall brochure

Process thermostats
Brochure

English

PDF
4,76 MB
Download document

Integral P

Process thermostats
Brochure

English

PDF
2,22 MB
Download document
Accessories
Please use the LAUDA accessories finder for additional accessories.
Do you need additional information or do you have questions?

International Area Sales
+49 9343 503-555
E-Mail
This might also interest you: