Temperature control solutions for the cooling of hydrogen are especially utilized for the cooling of electrolyzers in the manufacture of green hydrogen. Likewise, they are also used where hydrogen is used and supplied, i.e. at hydrogen filling stations and in compression cooling. Refueling of heavy vehicles, such as trains or ships, uses liquid hydrogen, which must be heavily compressed. This results in high technical requirements for the systems involved in transport, storage and the actual refueling process. For this purpose, LAUDA offers innovative constant temperature equipment that meet both the particular requirements of hydrogen as an energy source, as well as external factors when refueling.
EXPERTS IN FUTURE COOLING SOLUTIONS
Are you looking for temperature control solutions for hydrogen? Then contact us.
Together, we will find the right solution for your requirements.
GREEN HYDROGEN: Energy source of the future
Hydrogen is considered highly promising for an environmentally friendly and efficient energy-saving system – in the field of both energy storage and mobility. To achieve this, the production of green, climate-neutral hydrogen is essential. However, this is only possible with the right technology. Hydrogen's great potential as an energy source indicates that this could pay off.
Hydrogen has a high energy content (calorific value) of 33 kWh/kg. In comparison, diesel fuel has 10 kWh/kg. By offering higher energy efficiency compared with combustion engines, fuel cell/electric drive systems can achieve a range of about 800 km with a tank filled with 5 kg of hydrogen. In addition, hydrogen electrolysis is an excellent way to utilize surplus electricity from renewable energies.
EXAMPLE APPLICATION AT A HYDROGEN FILLING STATION
The technical challenges involved in the use and supply of hydrogen can be seen at a hydrogen filling station for liquid hydrogen. Liquid refueling is usually used for heavy vehicles. Large quantities of hydrogen must be stored, which are compressed under pressure. When doing so, the compressors in particular must be cooled reliably. The differences from conventional filling stations with fossil fuels start with delivery. The hydrogen is delivered by special transporters in container bundles pressurized to more than 1000 bar. These are steadily emptied at the filling station, and the H2 compressor is switched in from 700 bar downwards. The density of the gaseous hydrogen increases to 56 percent of its liquid state. This compressing process generates heat. To discharge this heat, Ultracool circulation chillers, which have optimized in-house by LAUDA, are used to keep the compressor at a constant -18°C using a coolant (heat carrier liquid). Even lower temperatures are needed during the refueling process itself. During this process, process cooling units cool the hydrogen that is pumped into the vehicle tank at high pressure with a short-term cooling output of 40 kW at -40°C, ensuring adequate dispenser cooling.
Read our press report on the topic.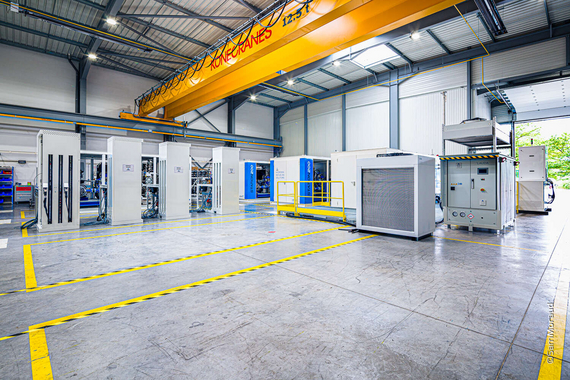 Hydrogen filling station with cooling provided by LAUDA devices / © Sam Moraud – HRS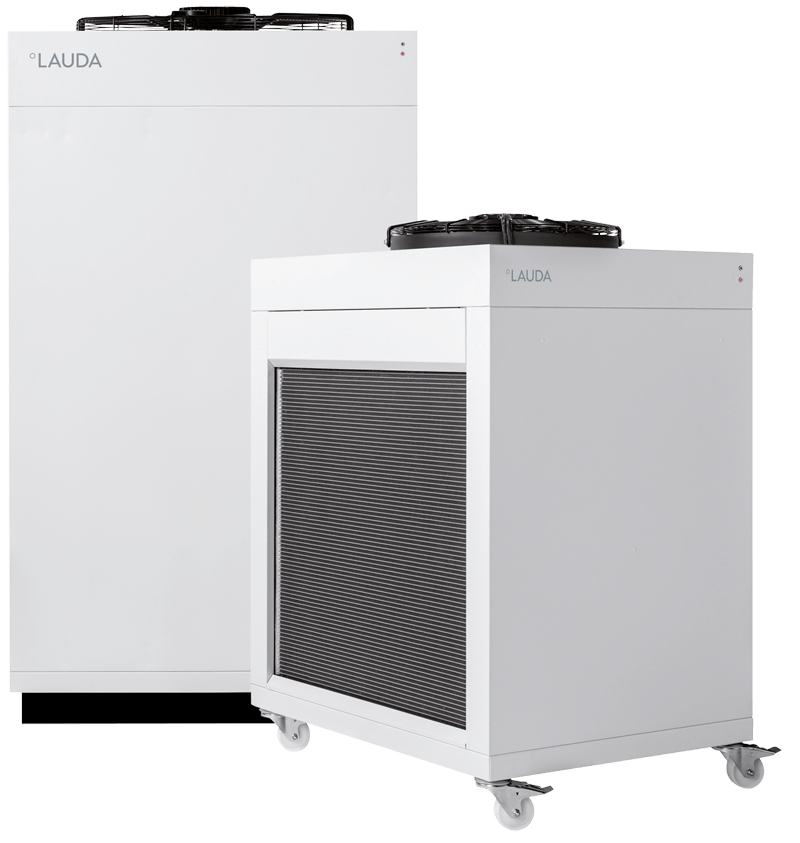 The new generation of LAUDA Ultracool circulation chillers
Experienced the improved circulation chillers in the new generation of the LAUDA Ultracool series. Thanks to their safe and reliable operation, even in tough conditions and in ambient temperatures as low as -15°C, they are the perfect choice for demanding temperature control applications for hydrogen systems.
LAUDA temperature control solutions for hydrogen systems
Precise temperatures for hydrogen logistics
Hydrogen must be pre-cooled in order to absorb the thermal energy created while refueling at a pressure of 700 bar. To achieve this, a short burst of high cooling output is required. To be precise, 40 kW for a period of about 20 seconds, shortly after the start of the refueling process. The indirect cooling process, as applied by LAUDA, allows an accumulator to be realized, which reduces this output by half and ensures that the dispenser is ready immediately, as soon as a vehicle pulls up.
What's more, the thermal energy can be discharged over distances of 30 to 40 meters. This allows the cooling system to be positioned further away from the vehicle where the cooling output is needed. This is desirable because the cooling system causes noise emissions. Indirect cooling is also more technically robust, which qualifies it for outdoor use in the typical outdoor temperatures of central Europe, which are steadily rising.
Find out more: Download our hydrogen brochure here!
Find out what hydrogen can do and how your hydrogen systems can benefit from our devices in our free brochure.