Everyone's talking about the future. With us, you can actively help shape it. LAUDA offers the best opportunities for an optimum start into professional life. Whether a technical or commercial focus: With us, you can complete a qualified traineeship, accompanied by internal instruction courses.
The technical training is instructed by a master technician in the modern training workshop, working on LAUDA equipment and systems, the manufacture of which requires special skills. Good skilled workers are always needed, which is why we take on all trainees after they successfully pass their examinations.
Our trainees are full team members from day one and are represented in the works council by our youth and trainee representation (JAV). The JAV also organises joint events, such as the traditional canoe trip at the beginning of the training year or the annual trainee excursion.
You can find out here what other benefits we offer our team members.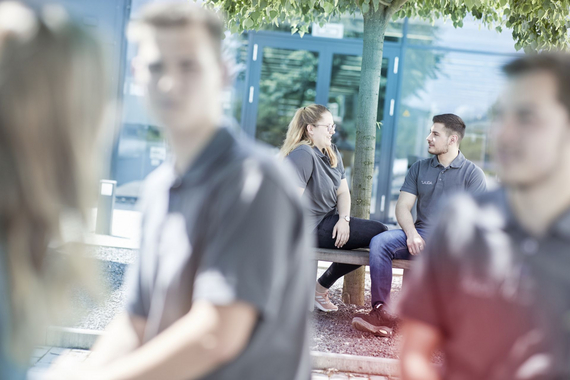 SO – WHAT DOES YOUR FUTURE LOOK LIKE?

Here you can find out more about three of our training professions.
You can find all training opportunities at LAUDA here.
Electronics engineers for equipment and systems are versatile specialists who are in demand in all industrial sectors.
The electronics engineer for equipment and systems is an integral part of German industry. He is at home in production halls as well as in research & development, in service or customer service. He can be found in the automotive industry, medical technology, mechanical and plant engineering or measuring and testing technology. During the apprenticeship, the electronics engineer for equipment and systems is given in-depth training for various fields of application, including, for example, residential buildings, industrial or infrastructure facilities. He learns how to handle a soldering iron as well as working with measuring instruments, the construction of prototypes or project-oriented work.
We at LAUDA have been training electronics engineers since 1957. We are correspondingly experienced in introducing young people to the complex activity step by step. Electronics engineers are an important component in the production of our high-precision Constant temperature equipment, which are used worldwide in areas ranging from automotive, chemical and pharmaceutical to aerospace. At LAUDA, as an electronics engineer for equipment and systems, you will ensure the construction and correct electrical wiring of temperature control devices and systems. You will test printed circuit boards, work in the pre-assembly of electronic modules, install the required software on the devices and test them independently. In industrial production for major customers in areas such as research & development, the automotive industry or pharmaceuticals, you will be an important part of the project team with the construction of complex control cabinets. Leon, an apprentice at LAUDA, was clear about his career aspirations early on: "My interest in electronics was already very strong at school. This was then confirmed by several internships, including one at LAUDA." Above all the varied and very versatile activities appeal to him in this profession. This also includes setting up and wiring Constant temperature equipment. "What I particularly like about my training is that I pass through all departments once. This gives me an insight into everything," says Leon. He was also impressed by the familiar and friendly atmosphere at LAUDA.
You can find more information about your requirements as well as the duration and structure of the training here.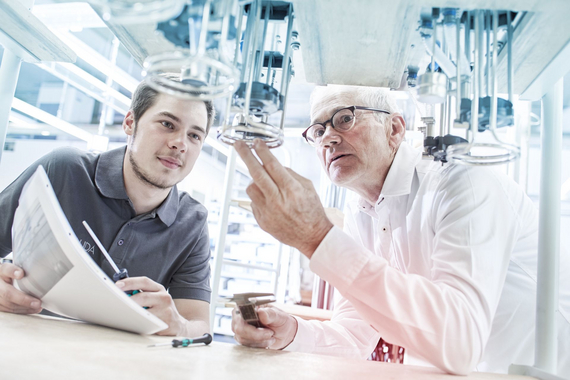 Mechatronics technician for refrigeration technology are specialists for the perfect temperature.
Mechatronics technicians are both mechanics and electronics engineers. They can work with a wrench, install electrical assemblies and components or install and test software. Mechatronics technicians for refrigeration technology are also masters of handling complex refrigeration and air conditioning technology. This is always used when things have to be cooled or additionally heated, i.e. tempered. And that is a lot. Car manufacturers cool their batteries for electric vehicles just as much as individual components that are subjected to extensive temperature tests. In the pharmaceutical industry, huge systems temper gigantic containers of medicines to the exact degree. In the aerospace industry, Constant temperature equipment is used to prepare the materials for the extreme outdoor conditions in which they will later be used. The devices must be highly precise and extremely reliable. This is where the mechatronics technician for refrigeration technology comes into play. His expertise and steady hand ensure that constant temperature equipment heat up to 550 °C or deep-freeze to -150 °C.
At LAUDA we have been training mechatronics technicians for refrigeration technology with great success since 2000. The focus of the three-and-a-half year training is on acquiring the skills and knowledge required for the complete installation, maintenance and repair of constant temperature equipment. In the extended, subject-related final apprenticeship exam, the focus is then on the examination areas of handling a complex customer order as well as economic and social studies. You will also gain experience in air conditioning technology. After your training, you can use the knowledge you have acquired as a mechatronics technician for refrigeration technology at LAUDA in production, in the assembly and testing of equipment, or in service and maintenance. By the way, LAUDA guarantees that trainees will be taken on after passing their exams - this is not a matter of course. Jonas, an apprentice at LAUDA, was initially able to get an idea of the profession of a mechatronics technician through an internship. For him, the job is "a profession with a future", since "refrigeration technology will always be needed, in laboratory technology as well as in food technology and building services engineering." What he particularly likes about his training is the interaction with his colleagues and the mutual support. "You learn a lot about the profession from the trainers, colleagues and master craftsmen," he says. "If you have a question, you can turn to anyone. If you have problems, you're always supported." And: "I'm proud to be training with the world leader."
You can find more information about your requirements as well as the duration and structure of the training here.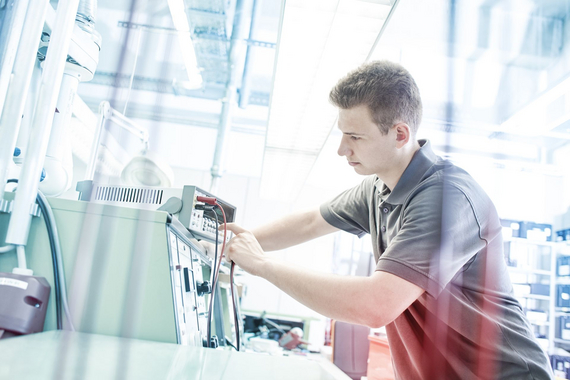 IT specialists for system integration are the control centre of digitisation in every company - highly valued and indispensable.
The computer, the tablet, the Internet, cloud services, information on the smartphone, all this is now part of everyday life in Germany. In the economy, these changes - away from paper and towards digital data - are in full swing. Old and proven working methods have to be broken up and digitalized, new software or hardware introduced or company data brought into the cloud. Many companies are working hard on the digital transformation. This requires experts with in-depth knowledge of information technology, IT. An IT specialist with a focus on system integration is a much sought-after, future-proof training occupation.
IT specialists for system integration work in companies to plan, build, set up and maintain IT systems - in other words, everything from e-mail programs to highly complex merchandise management software. Nowadays, there are hardly any companies that manage without the supporting help of an IT specialist. This includes both hardware and software components, which must be expertly matched to each other in such a way that they function smoothly together. As an in-house service provider, you set up these systems according to the requirements and operate and manage them - a demanding task. Because once these systems have come to a standstill, unrest quickly arises.
The IT specialist focusing on system integration also takes care of solving everyday computer problems. This also includes the ability to systematically isolate and eliminate faults when they occur, either independently or using expert and diagnostic systems. You are often the first point of contact in the company when colleagues have problems with their computers. The IT specialist advises internal and external users on the selection and use of software and hardware and solves application and system problems. He also creates system documentation and conducts training courses for users.
"In our company, the IT specialist is an important link between people and digital programs," explains Martin Rothaler, IT manager at the Constant temperature equipment manufacturer LAUDA. "During training, you not only learn to master the technology, but also deal with a wide variety of people in the company." And, Martin Rothaler continues: "Training to become an IT specialist is an apprenticeship with a future. Digital systems have become an indispensable part of any company, regardless of the industry."
The apprenticeship as an IT specialist for system integration is a new training occupation at LAUDA. You can find more information about your requirements as well as the duration and structure of the training here.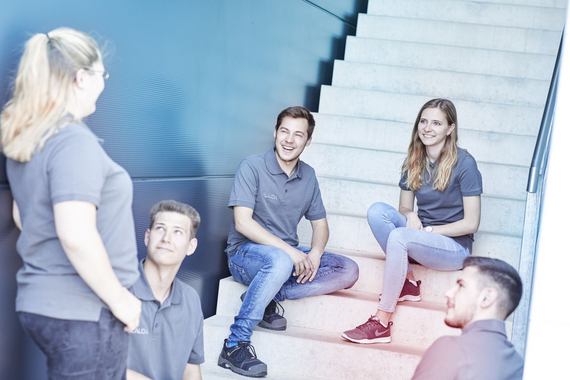 Jasmin Nied, Industrial Manager with additional qualification
» What inspires me at
LAUDA is that you are
integrated so quickly
and valued as a full
team member. «
Louis Behringer, Mechatronics Technician for Refrigeration Technology
» The fact that I pass through
many departments once is
something I particularly like
about my traineeship. That
way you get to know the
whole company. «
Rabea Kraus, Industrial Manager
» To me, the name
LAUDA means qualified
and exciting training
with future prospects. «
The dual education option is a university course with fixed, integrated practical blocks at the company. It differs to "classic" study programs by offering a greater practical focus. This way, it combines the merits of a fully-fledged academic degree with the advantages of practical training.