Oops, an error occurred! Code: 20231211030010a1901ae9
Stills for distilling pure water with a high distillation quality
Stills for distilling pure water with a high distillation quality
LAUDA Puridest stills reliably refine raw water, creating a highly pure distillate with excellent conductance values. This distillate is ideal for diluting reagents and samples in laboratories, for example. Our product range includes both dual stills and mono stills, with and without a storage tank, and a fully automated cleaning cycle. Our water treatment systems are some of the most durable in the world due to their sturdy construction. Similar to our water baths, deep-freezers and shakers, LAUDA stills are manufactured under the "GFL Technology" label, which stands for quality and reliability in laboratories worldwide.
Learn more about GFL Technology.
High distilling quality without consumables
LAUDA stills provide ultra-pure distillate. They can also reliably purify low-quality raw water, separate dirt particles, and kill germs and bacteria. Our stills do not require consumables such as expensive cartridges as well as the time-consuming preparation of ion exchangers and adsorbents. The high quality of the distillate complies with DAB regulations and the provisions of international pharmacopoeias, making it suitable for the following purposes:
Microbiological and analytical applications
Production of buffer solutions (for example, in development and research laboratories)
Preparation of tissue and cell cultures
Preparation of bacteriological and medical samples
Simple commissioning and maintenance without requiring specialized personnel 
LAUDA Puridest stills are extremely easy to install and use. They only require a power and raw water supply. Ultra-pure water can then be produced and extracted at the simple push of a button. Complex maintenance work is not required. The only maintenance work required is the cleaning of pollutants from the equipment inside the vaporization chamber, which is performed in a manual or fully automated cleaning cycle, depending on the device configuration. You do not require specialized personnel to perform maintenance. LAUDA Puridest stills are therefore the easiest and highest quality solution for your laboratory. Are you looking for laboratory equipment from the former GFL Gesellschaft für Labortechnik mbH? You can find compatible LAUDA equipment in our practical cross reference list!
We would be glad to advise you and explain the benefits of our LAUDA Puridest stills to you. Contact us now!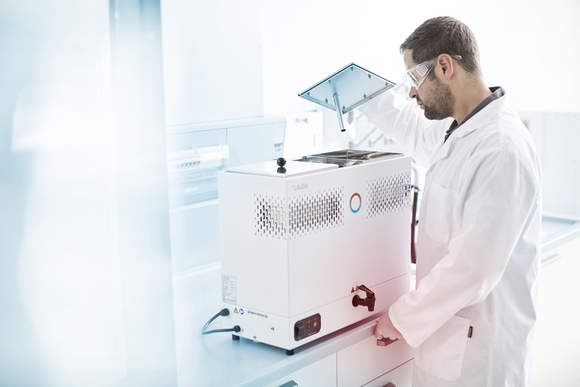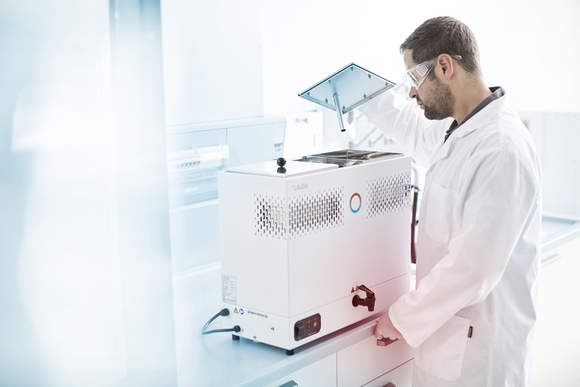 LAUDA Puridest stills are ideal for laboratory work.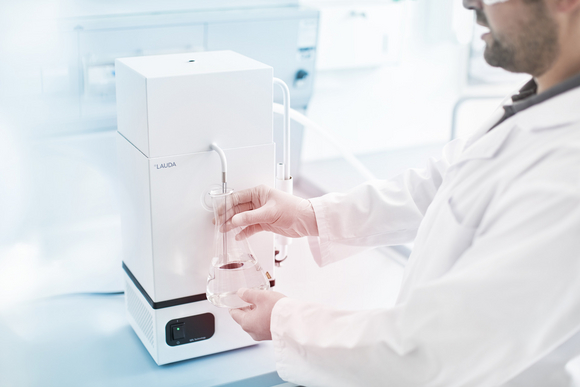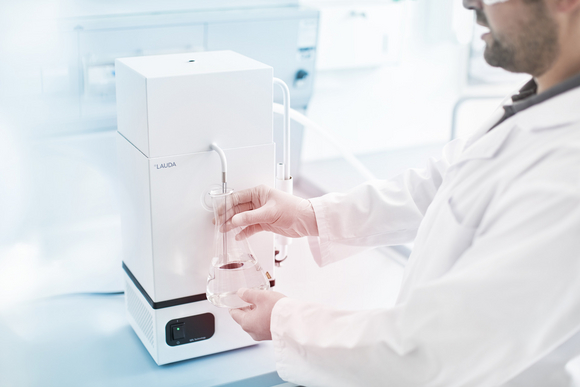 They are easy to operate and produce ultra-pure water that is simple to extract.
NOT FOUND WHAT YOU'RE LOOKING FOR?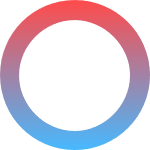 Answer some questions and we will work out your individual constant temperature solution in the next step.
learn more
LAUDA SCIENTIFIC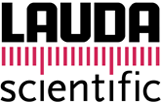 You are looking for Measuring instruments that combine precision, reliability and longevity confidently?