Bridge thermostats 30 to 300°C for temperature control of any bath
Intuitive operation with broad temperature range. The Proline bridge thermostats with Varioflex pump are great for temperature control of any bath vessel.
The PB models have a pressure/suction pump, but the PBD models are equipped with stronger pressure pumps. They enable temperature control of deeper baths up to 320 mm.
A telescoping rod for baths with a width of 310 to 550 mm, an ergonomic handle and rear and side pump connections are also available.
Overview
Benefits and added value
Detachable remote control unit for easy and intuitive operation

Programmer with 150 temperature-time segments; with Command operating unit, also graphic temperature curve display

PowerAdapt system for optimally adapted max. heating output without influencing the mains power supply

Low-level protection and adjustable overtemperature protection with acoustic alarm. Float for identifying low or high level.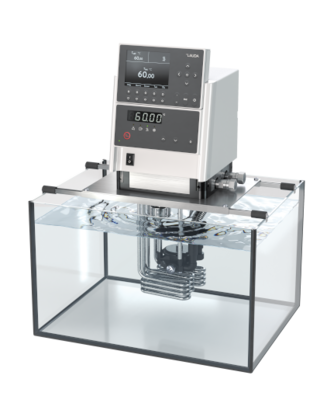 Working range
LAUDA Proline bridge thermostats are available with two different control units. The master version is designed for all applications in which the parameters are not changed very often. The removable Command operating unit offers a graphic LCD screen for high operating convenience and optimal functionality.

Min. working temperature
30 °C

Max. working temperature
300 °C

Temperature stability
0.01 ± K
Select up to 4 technical parameters that you want to display in the table
Device dimensions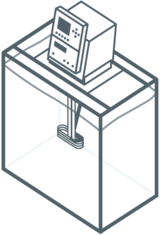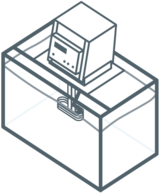 Characteristics
Downloads - general product data
Device
Device category
Document type
Language
Format
File size

Proline Bridge thermostats

Special devices
Operating instructions

English

PDF
3,93 MB
Download document

Chapter Heating thermostats
Overall brochure

Bath thermostats
Brochure

English

PDF
4,12 MB
Download document
Accessories
Please use the LAUDA accessories finder for additional accessories.
Do you need additional information or do you have questions?
Dr. Marta Garijo Añorbe
Area Sales Manager
+49 9343 503-297
E-Mail
This might also interest you: