Store permanently and safely with LAUDA Versafreeze
The interior of LAUDA Versafreeze chest freezers is made completely of stainless steel. These appliances protect valuable samples from unauthorized access and temperature manipulation. High quality and reliability reduce the risk of costly damage due to spoiled samples and minimize the need to keep spare capacities for the rapid transfer of stored goods.
These deep freezers are the result of more than 50 years of market experience, based on uncompromising quality and reliability. Extensive options and accessories (e.g. water cooling, CO2 or Ln22 safety cooling, storage systems for optimal space usage, special installations, etc.) makes adjustments for numerous application cases possible.
LAUDA Versafreeze deep freezers are optimized for maximum energy efficiency and minimum thermal load. The multi-layered insulation in the door, machinery room or inner compartments protects against loss of coldness and minimizes the energy consumption of continuous operation and the discharge of waste heat into the room air conditioning.
Overview
Benefits and added value
Powerful insulation technology with high-quality materials

Custom-tailored equipment for any application

The battery-operated data logger is used for external monitoring and recording the temperature in the freezer space

Locking systems to protect against unauthorized access down to the individual interior compartment

Easy, intuitive operation via touchscreen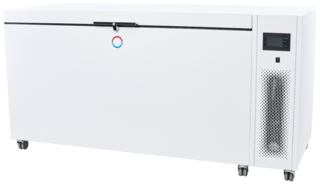 Working range
LAUDA Versafreeze freezers offer maximum sample safety due to high thawing times, even in the event of a power failure. The standard integrated accumulator ensures that the display of actual temperature and alarm functions is maintained for a period of up to 60 hours. Locking systems down to the individual drawer and inner compartment provide protection for high-value and critical samples against tampering and access.

Min. working temperature
-40 °C

Max. working temperature
0 °C
Select up to 4 technical parameters that you want to display in the table
Device dimensions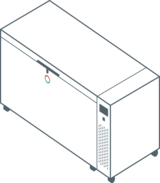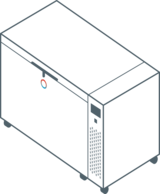 Downloads - general product data
Device
Device category
Document type
Language
Format
File size

Versafreeze Upright freezers

Deep-freeze appliances
Operating instructions

English

PDF
3,13 MB
Download document

Versafreeze Chest Freezers

Deep-freeze appliances
Operating instructions

English

PDF
2,85 MB
Download document

Versafreeze Freezers

Deep-freeze appliances
Brochure

English

PDF
1,86 MB
Download document

Chapter Freezers
Overall brochure

Deep-freeze appliances
Brochure

English

PDF
1,62 MB
Download document
Accessories
Please use the LAUDA accessories finder for additional accessories.
Do you need additional information or do you have questions?

International Area Sales
+49 9343 503-555
E-Mail
This might also interest you: